We will be holding more and more contests in the near future, if you have any questions or comments Drop Us A Line!
For now we have the "Cache Frenzy Contest" below!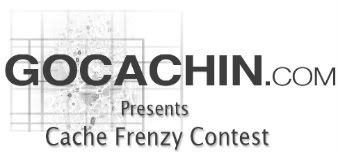 ****We currently have a new contest ready for our viewers to take advantage of! The contest is going to be set around a Cache
Frenzy we like to call it! In a couple of weeks we are going to place over 20 new caches and the cacher with the most FTF's,
Wins a New Geocoin! We Will not tell you when and or where the caches will be, but let this be a WARNING! To enter the
contest please send us an email by clicking This Link with your name and cache name! Its just that simple!
Let The Games Begin!
Rules To Follow For the contest!
1. You must email us with your name and cache name to participate in the games!
2. There will be no cheating, i.e. If there are two of you to one user name you must not spilt up to get more caches!
3. Logs must be Logged online ASAP! *****